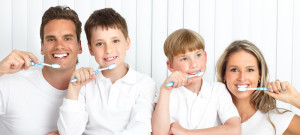 While most of your dental care occurs at home with your toothbrush and floss, you need your dentist to make sure your hygiene routine works, or to prescribe an appropriate treatment if it doesn't. Yet, finding a dentist that can provide excellent care for every member of your family might not be as simple as finding one for yourself. Besides the fact that everyone's smile is different, the meaning of dental care can change depending on a number of factors, including the age of the patient. At Waterstone, our team of dental professionals is well-trained, well-experienced, and well-equipped to provide high-quality dental care to your entire family.
Dental Care for Every Member of the Family
Children whose primary teeth have yet to fully develop have different needs than children who are preparing to receive their adult set of teeth. Older and senior adults typically have more to take into consideration, such as existing medical conditions and current medications, than adults who are still in the prime of their health. However, what all patients have in common is the need for healthy teeth, gums, and oral tissues, and a family dentist who understands their unique needs
Being Available to All of Our Patients
As a parent, you have a lot on your plate, and balancing it all can be more than challenging. To help accommodate that challenge, we open our office on Saturdays and extend our business hours during the week so that we can be available to more of our patients, more often. In many cases, same-day dental treatment is available, and if you have an emergency (i.e., cracked, fractured, or broken tooth), we can possibly fix the tooth during regular business hours.
ABOUT YOUR FUQUAY VARINA FAMILY DENTIST:
For over 15 years, Dr. Michele Collier and the talented professionals at Waterstone Family Dentistry have provided comfortable, compassionate family dental care to patients of all ages from Fuquay Varina, NC, as well as Holly Springs, Angier, Willow Springs, Raleigh, and all surrounding communities. If you'd like to learn more, you can schedule a consultation with Dr. Collier by calling (919) 557-5250 today.