What Is Invisalign and How does it work?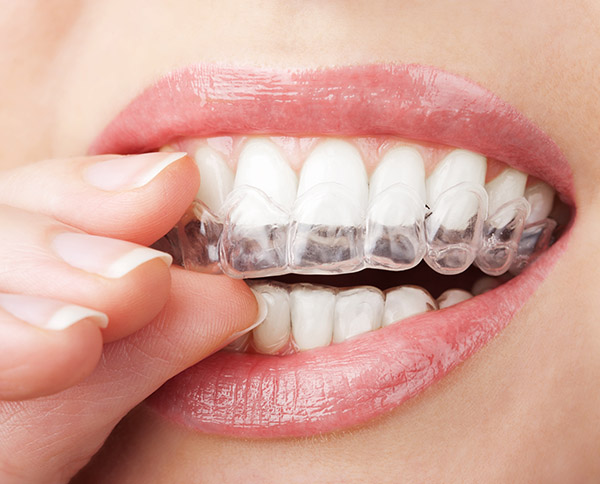 The spelling of Invisalign references exactly what the treatment does.  It is a process that uses clear, invisible aligners, also called trays, to align the teeth.   When teeth are crooked or rotated or when a patient has a deep bite or any other bite abnormalities, Invisalign can correct these misalignment issues.  And while Invisalign has been around for decades, not everyone has heard of it and not everyone knows that it is an alternative to traditional metal braces.
Invisalign works by using medical grade plastic that is custom fit to your teeth to make a series of thin, comfortable aligner trays.  In addition to the trays, small tooth-colored attachments are placed on the teeth.  The trays in conjunction with the attachments work together to exert a gentle force to move the teeth through the bone.
What are the Benefits of Invisalign?
Invisalign can straighten your teeth and improve your bite without the use of metal brackets and bands which trap food and make it challenging to brush and floss.
You can whiten your teeth as you straighten them using the same aligner trays. The whitening gel can be placed in your aligners and can be worn during the day or at night to whiten your teeth.   The gel can penetrate through the attachments and chemically remove discoloration from the tooth structure.
Invisalign, by correcting bite and misalignment issues, can alleviate TMJ issues. When teeth are properly aligned, there is less stress on the TMJ.
Invisalign can also be helpful in patients whose bite and misalignment issues have led to narrow, constricted jawbone formations which can in turn lead to airway issues such as snoring and sleep apnea. When Invisalign is used in these situations to correct the bite and expand the jawbone, it provides an additional benefit in that the airway is now open and wider.
You can contact us with any questions about Invisalign and how it can help you achieve a brighter and whiter smile.