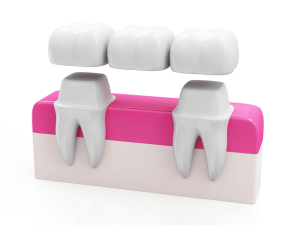 Dental bridges are literally used to bridge the gap between missing teeth. The use of dental bridges is not new; in fact, the practice dates back for centuries. Some civilizations were found to have used dental bridges as a symbol of status, and would adorn them in gold and jewels. Today, modern medicine has improved upon an ancient idea to create a natural-looking option for replacing missing teeth.  
How Does a Bridge Work?
A dental bridge utilizes the two anchor teeth, or "abutment teeth", on each side of the gap. These teeth will serve as a stable foundation for a dental bridge to replace your missing tooth or teeth. The abutment teeth are gently contoured down to an appropriate size that will allow crowns to be placed over them. The crowns are constructed with a false tooth, or "pontic", between them that will take the place of the missing tooth. Once your bridge is sized and fitted, it will be secured in place with advanced dental adhesive solutions.
Proper Care for Your Dental Bridge
Just like your natural teeth, bridges need daily maintenance to ensure they last as long as possible. You should brush and floss your teeth daily, as you normally would, to help maintain your bridge. Your dentist will show you how to properly floss around your bridge. Also, your diet is important in providing essential minerals to your teeth to keep them strong and healthy. Without a strong foundation, a dental bridge may not last. You should schedule regular preventive visits with your dentist to help avoid and spot any complications. With proper care, your dental bridge can last for many years.
ABOUT YOUR FUQUAY VARINA DENTIST:
For over 15 years, Dr. Michelle Collier and the talented professionals at Waterstone Family Dentistry have provided comfortable, compassionate dental care to patients of all ages from Fuquay Varina, NC, as well as Holly Springs, Angier, Willow Springs, Raleigh, and all surrounding communities. If you'd like to learn more, you can schedule a consultation with Dr. Collier by calling (919) 557-5250 today.