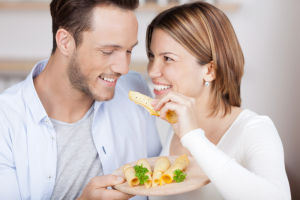 Your diet can affect more than your physical frame and fitness. For better or worse, what you eat and how often you eat it also has a significant influence on the state of your dental health. While some substances, like sugars and organic acids, are known for their ability to damage teeth and cause cavities, other foods essential to feeding your teeth the nutrients they need to stay strong and healthy.
What Teeth Are Made Of
When food and beverages come into contact with your teeth, they interact with the mineralized layer of enamel that surrounds them. Made of extremely-resilient calcium and phosphate crystals (as well as proteins and other minerals), enamel is your teeth's first line of defense against oral bacteria that cause tooth decay and cavities. Consuming adequate amounts of calcium and phosphate will help your teeth maintain stronger, more resistant enamel.
Sources of Dental Nutrients
Calcium and other dental nutrients are commonly found in most dairy products, like milk and cheese, but can also be found in a variety of other foods, including;
Green leafy vegetables, like lettuce and kale
Some fish, like salmon and trout
Chicken, beef, and turkey
Fortified orange juice
Sugar-free yogurt
It's Not Just What You Eat
Like all things, even food that's good for your dental health can be troublesome if you eat it too often. Conversely, in moderation, things that are notoriously bad for your teeth, like sugar, can be made harmless if consumed in moderation. To be safe, try to refrain from snacking too often throughout the day. When you do, opt for foods and drinks that are better for your teeth, like yogurt instead of ice cream, and milk or water instead of soda.
ABOUT YOUR FUQUAY VARINA DENTIST:
For over 15 years, Dr. Michele Collier and the talented professionals at Waterstone Family Dentistry have provided comfortable, compassionate dental care to patients of all ages from Fuquay Varina, NC, as well as Holly Springs, Angier, Willow Springs, Raleigh, and all surrounding communities. If you'd like to learn more, you can schedule a consultation with Dr. Collier by calling (919) 557-5250 today.