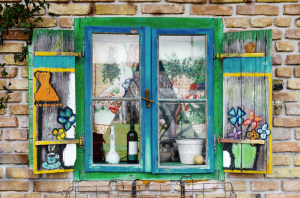 Fancy yourself a bit of an art enthusiast? Always interested to see what your fellow community members are coming up with in the comfort of their own homes – or their art studios, for that matter? If so, do yourself a favor this weekend. Grab a friend or family member and head to downtown Fuquay Varina for an exciting art installation experience that is sure to keep individuals of all ages entertained and smiling.
What Is It?
This event is called Pop! Fuquay-Varina Downtown Art. In partnership with the Open Art Society, you can take in a series of art installations located in the windows of downtown stores. To join in on the fun, you may make a visit to the artist tour and reception to kick off the festivities. This year, the art focuses on the downtown itself and the theme of love.
Where Is It?
Located in downtown Fuquay Varina, the installation tour will begin at 502 E. Broad Street and will end at The Mill, 146 S. Main Street.
When Is It?
The event takes place on March 6th. The installation will remain on display through May 2015, so you may return again and again to take in the art. The tour will begin at 6pm and end at approximately 7pm, when the reception will then begin.
Who May I Contact with Questions?
You may contact Fuquay-Varina Downtown at 919-552-0843 or send an email to director@fuquay-varinadowntown.com.
ABOUT YOUR FUQUAY VARINA DENTIST

:
For over 15 years, Dr. Michele Collier and the talented professionals at Waterstone Family Dentistry have provided comfortable, compassionate dental care to patients of all ages from Fuquay Varina, NC, as well as Holly Springs, Angier, Willow Springs, Raleigh, and all surrounding communities. If you'd like to learn more, you can schedule a consultation with Dr. Collier by calling (919) 557-5250 today.